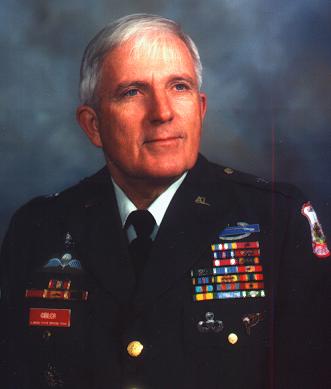 BRIGADIER GENERAL JOHN K. GIBLER
Brigade Commanding General

Alabama State Defense Force
Headquarters, 4th Infantry Brigade

Brigadier General John K. Gibler was appointed the Commanding General for the 4th Infantry Brigade, Alabama State Defense Force in 1990.

He is a graduate of the Citadel and earned his masters degree from Shippensburg University. General Gibler has held numerous command and staff positions throughout his thirty years of active service. His command positions include company command with the 2nd Infantry Division, battalion command with the 7th Infantry Regiment in Vietnam, and brigade command with the 82nd Airborne Division.

He also served in the Office of the Chief of Staff, Washington DC; Assitant Chief of Staff for Operations with the 24th Infantry Division at Ft. Riley, KS; Chief of Plans for the XVIII Airborne Corps, Ft. Bragg, NC; Commandant of Cadets at the Citadel, Charleston, SC and Deputy J-5 for the Rapid Deployment Task Force, MacDill Air Force Base, FL.

In addition to General Gibler's distinguished military service, he has numerous awards for peacetime and combat which include the Defense Superior Service Medal, Legion of Merit w/1 OLC, Distinguished Flying Cross, Bronze Star w/3 OLC, Meritorius Service Medal, Air Medal w/4 OLC, Army Commendation Medal w/2 OLC, Korean Service Medal, National Defense Service Medal w/1 OLC, Armed Forces Expeditionary Medal, Vietnam Service Medal w/4 stars, Army Service Ribbon, Overseas Service Ribbon, RVN Gallantry Cross w/1 bronze star, United Nations Service Medal, Republic of Vietnam Campaign Medal, Army Valorous Unit Award, Army Meritorius Unit Commendation, RVN Gallantry Cross Unit Citation w/ palm, RVN Civic Actions Unit Citation, the Combat Infantryman's Badge, Pathfinder Badge, Master Parachutist Badge, Thailand Jump Wings and the RVN Ranger Badge.